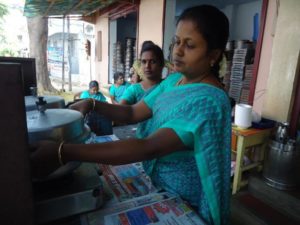 "All a woman needs is a dosai kal to start a business," says G. Ananthi, the proprietor of Anu Mess. "She can make the batter herself and sell dosais at home when she has the time. With hard work, she can make enough to feed her family."
Ananthi has been doing just that and running the eatery in New Siddhapudur for 13 years now. Anu is an all-women's mess. Dhanam, Shenbagam, Dhanalakshmi… from the main cooks to the waiters, the staff is made up entirely of women.
Ananthi was 11 years old when her father John Martin suffered an industrial accident. With their only source of income gone, her mother Sarojini had to find a way to feed the family. She decided to do what she was good at — cook. She sold idlis and aapams at home. "We hardly made any profit. But we kept at it," says Sarojini. When the children were older, Sarojini shifted the business to a 7×7 room near their house for a monthly rent of Rs.600. Their initial investment was Rs.150. "We sold tiffin items in the evenings. On our first day, we sold for Rs.60. The next day, we sold for Rs.70. Some days, we made nothing," says Ananthi.
But business picked up gradually. "Some customers suggested that we serve noon meals too and we did," she adds. A few years later, the owner of a near-by building offered to rent them a bigger space. This is where Anu Mess stands today.
Ananthi says that she learned the knack of running a business on the job. "For the first five years, we did not make any profit," she says. "But I wasn't running the business just for the money. I enjoyed cooking for people. I knew that if I did my job well, people will come back for more."
Ananthi employs seven women; she gives preference to single women who fend for their families. Dhanam, for instance, has been abandoned by her husband.
There's something about a workplace made up only of women. The atmosphere is warm; there is a kolam at the entrance; the kitchen is well-maintained; the staff would gladly serve you a second helping of payasam. Every one calls Ananthi 'akka' — there is no hierarchy. Work timings are flexible; Ananthi lets her employees take time off to pick up and drop their kids at school. She has also organised her team into the 'Mercury Pookkal self-help group'.
Ananthi has placed a cylinder and stove in front of the mess — it is free to be used by women who aspire to start their own cooking business. "Anybody can bring their batter here and make dosais or paniyarams to sell." She assures them that they can make a profit. Her advice: "Maintain quality and be persistent." And most importantly, "make a decent coconut chutney and kaara chutney."